OCD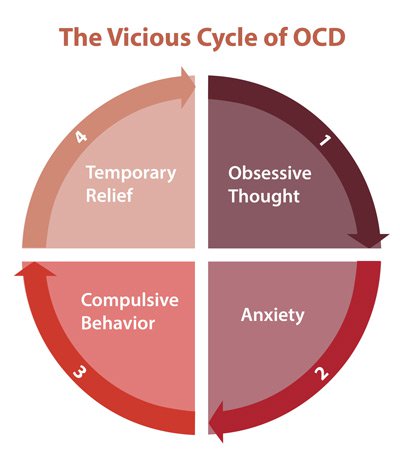 What is OCD?
Obsessive Compulsive Disorder has two main components: obsessions and compulsions.
Obsessions
Obsessions are quite different to the ordinary, everyday worries that we all experience in our day-to-day life. Obsessions are intrusive thoughts, images or urges that repeatedly appear in your mind and cause significant fear and anxiety.
Common obsessions include:
1. Fear of contamination by dirt, germs and viruses
2. Worries of having not locked the door or turned off the oven
3. A need for perfection and order
4. Forbidden thoughts, such as thinking about abusing a child
Compulsions
Compulsions are actions or thoughts you feel compelled to repeat, often as a response to an obsession aimed at reducing the anxiety.
You are unlikely to experience any pleasure or fulfilment when carrying it out and yet still find yourself doing it over and over again.
Treatment For OCD
Cognitive Behavioural Therapy (CBT) has been found to be the most effective treatment in successfully tackling Obsessive-Compulsive Disorder (OCD). It remains the treatment of choice for tackling OCD by the National Institute for Health and Clinical Excellence (NICE) and specialist centres such as the Centre for Anxiety Disorders and Trauma (CADAT).
Firstly, you will learn about the cycle of OCD and what keeps it going. We will then look at what has led to it developing. OCD is a maladaptive response to stress and there is usually a genetic bias. We will then identify the theme of your obsessions and enable you to get some emotional distance from the content of your disturbing thoughts. If there is a compulsive behaviour attached then we can expose you to the triggers under hypnosis and then later in reality to desensitise you to them.
Techniques from Mindfulness and Acceptance and Commitment Therapy can also be used to enable you to step back from the content of the disturbing thoughts.
PRESENTATION: "Just wanted to let you know about my presentation…I actually can't believe how well it really went, it was like a dream and ever since I have been on cloud 9! On the morning of the presentation I felt calm, relaxed and was almost looking forward to it! I did mine second in the class and as soon as I stood up my nerves remained basically non-existent! I really enjoyed it in the end. It lasted 25 minutes and not once during it did I feel nervous! Most amazingly my voice was strong and confident throughout and did not shake once! Everyone congratulated me on my presentation and how confident I was…they even said how strong and confident my voice sounded! I can't believe how perfectly it went. Thank you so much for all of your help and support… the effect that the hypnotherapy had on me was amazing and truly life-changing." Emma B, Student